Every day our teeth and gums are exposed to millions of impacts that come from such routine acts as the consumption of food and beverages. Necessary actions, but we must be aware how they affect oral health, which can also cause discolourations in tooth enamel or favour the accumulation of bacteria that later become tartar.
For the care and maintenance of a healthy smile it is necessary to establish a daily oral hygiene routine and thus avoid problems in your teeth, gums and ultimately enjoy your perfect smile.
Some signs that may indicate a dental health problem are:
• Gums that bleed easily, are red, swollen or tender.
• Separation between the gum and teeth.
• Bad breath and a bad persistent taste.
• Teeth that move and remain loose as if they were milk teeth.
• Any type of change in the way the teeth fit when closing the mouth and the position of the jaw when biting.
The first phase of gum-related disease is known as gingivitis and consists of a redness of the gums that swell and bleed easily. When this occurs, the disease is reversible and must be cured by professional cleaning at the dentist. Once the problem is treated, it is important to follow the treatment with the ideal dental cleaning practices and products focused on sensitive gums.
The second phase of the disease is called periodontitis and can lead to the loss of tissues and bones that support the teeth. It is a deeper infection of the gum, which causes the tooth to move forming periodontal pockets and the bone that holds the tooth is lost, leading to the loss of teeth.
These gum diseases usually evolve silently and without pain, they do not become really evident until they reach very advanced stages, so at the slightest symptom, it is advisable to go to your dentist.
To avoid this type of problems and to not allow the development of this type of oral diseases, in your dental hygiene you can not miss out on the star toothpaste for the care of your gums: Yotuel Pharma B5.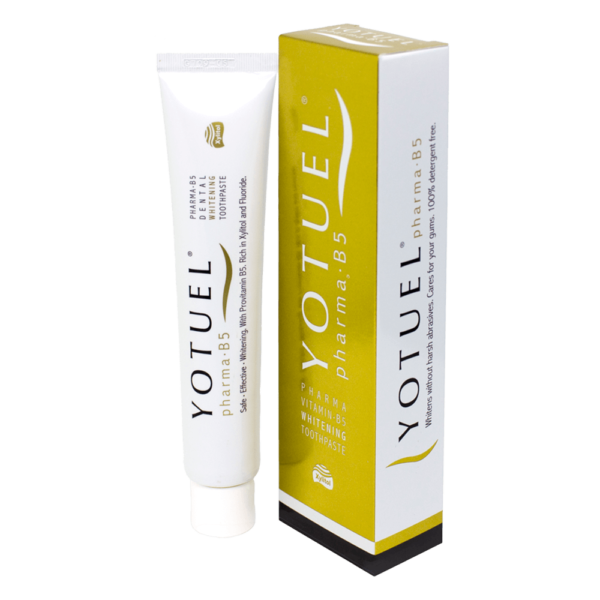 Characteristics of Yotuel Pharma B5
• It is anticaries, contains 100% fluoride and is rich in xylitol
• It is the bleaching toothpaste with the lowest abrasiveness index in the whitening toothpaste market.
• Eliminates bacterial plaque and tartar with great effectiveness.
• Thanks to its active natural enzymes, it protects tooth enamel.
• 100% free from detergents.
• Avoids dental hypersensitivity.
• Vitamin B5 has an anti-inflammatory effect that promotes the healing of mouth lesions, diseases of the oral mucosa and also strengthens the gums. It is very effective for smokers who tend to have more gum problems apart from a greater discoloration of enamel caused by smoking.
• It is composed of D-Panthenol that provides your teeth with potassium, prevents the reduction of your dental tissue and strengthens your gums.
The advanced formula of Yotuel toothpastes is possible for professionals specialized in innovation and development of oral hygiene products that are part of BioCosmetics Laboratories, at the forefront of oral care.
Prevention is always better than cure, so keep your Yotuel B5 Pharma toothpaste to hand that will help you achieve a five star dental health, as well as a healthy white smile.