What's a healthy white smile without fresh breath? Did you know that more than 50% of people suffer from halitosis at some point in their life?
If you want to fight bad breath, the main weapon is in the daily care of your mouth with effective products, as well as in a suitable diet.
However, there are times in life when, although we are used to having proper oral hygiene habits, external factors prevent us from having fresh and pleasant breath.
The impossibility of brushing your teeth after meals, eating some strong foods such as garlic or onion, smoking or suffering from infections / ailments in our body are other main causes of bad breath.
90% of halitosis cases originate in the mouth. Following proper eating habits and proper oral hygiene is essential to prevent and combat this oral condition.
How to fight bad breath: products for fresh breath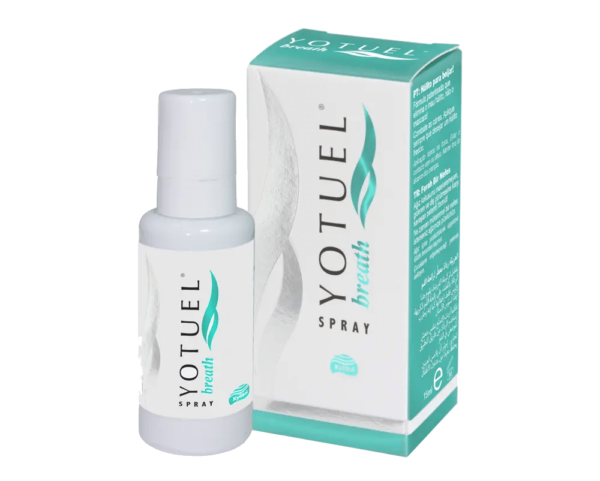 Avoid bad breath of oral origin
With Yotuel Breath Spray you will forget the problem of bad breath in your mouth and it will provide you with fresh breath.
Composed of virgin olive oil, parsley seed and other essential oils, this spray, in addition to maintaining the balance of your mouth, stabilizes the natural flora to give you an amazing sensation of freshness.
How to use Yotuel Breath Spray to have fresh breath?
Spray once or twice when you consider it.
Avoid rinsing your mouth with water after use.
Yotuel Breath Spray will give you a feeling of fresh breath for hours.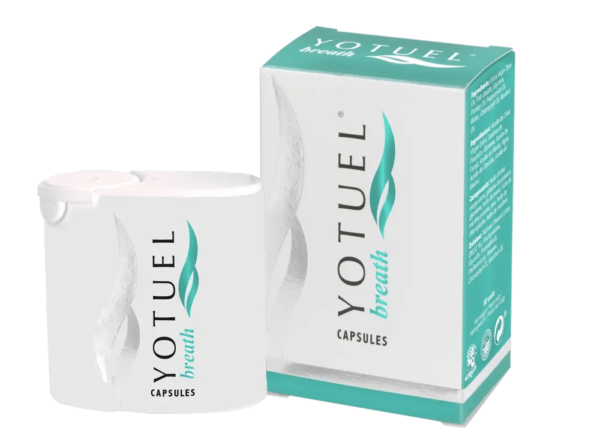 Eliminates bad breath of extra-oral origin
As we said, bad breath is not always caused by your mouth, but sometimes it can be caused by stomach problems, as well as if you smoke, when you wake up, you are not eating for a while or have had a copious meal.
For these types of problems there is an effective solution such as Yotuel Breath Capsules. A product designed to combat bad breath of extra-oral origin through an oil-based formula
How to use Yotuel Breath Capsules to have fresh breath?
Take 1-2 capsules with water after each meal.
Don't chew them.
You will get fresh breath for 4-6 hours.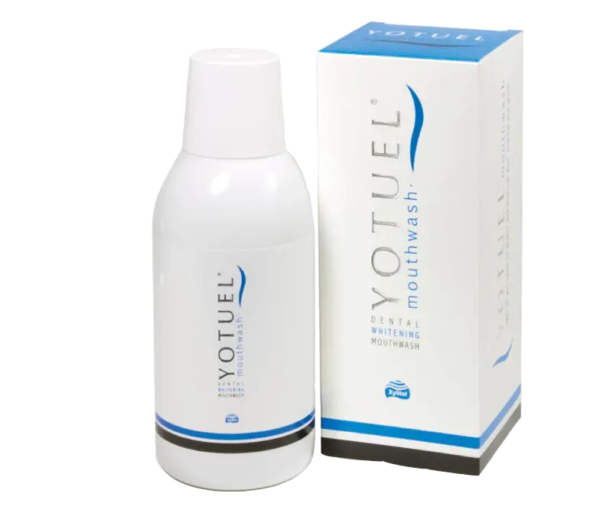 The ideal daily supplement for your perfect oral hygiene
On many occasions, eating away from home prevents us from carrying out proper cleaning and care of our teeth. For these occasions, as to complete in the best way your daily oral cleaning ritual is the Yotuel Mouthwash.
This product is a perfect complement that will help you to have fresh breath. It is a multi-action mouthwash capable of fighting bacterial plaque, repairing tooth enamel and protecting the gums.
How to use the Yotuel Mouthwash to have fresh breath?
Pour 20 ml (4 teaspoons) of Yotuel Mouthwash into a glass.
Rinse for approximately 30 seconds without diluting it with water.
Spit the solution into the sink and taste a nice mint flavour.