As you know, at Yotuel we have the objective of helping you in a simple and effective way to have a healthier mouth and a whiter smile.
The aesthetics of your mouth and your teeth is important. It makes us feel good and increases our security in our social and professional life.
Because having healthy gums, good breath and blemish-free enamel shows that we are also in good health.
This is the reason why Yotuel products are formulated and developed taking into account the dental hygiene and needs that each mouth may have: from gum inflammation, enamel repair or removing stains on the teeth.
At Yotuel we have products such as Yotuel All In One Snowmint, capable of adapting to each person's oral hygiene and beauty routine.
For this reason, the "It gir"l Laura from Lula & Co, has found in Yotuel All In One Snowmint the ideal toothpaste to enjoy and keep her smile whiter and healthier.
What advantages does Laura from Lula & Co find in Yotuel All In One Snowmint toothpaste?
Laura wears a radiant smile in all her photos and a few days ago she wanted to share with her Instagram community how she takes care of her teeth, since it is one of the questions she is asked the most.
As Laura explained, in addition to the professional whitening treatment carried out a few years ago by a clinic specialized in dental aesthetics, she uses a daily whitening paste such as Yotuel All In One Snowmint.
Why did you start using Youel in your day to day?
Laura clarifies that the characteristics of Yotuel All In One Snowmint were key to start using this product.
Yotuel All In One Snowmint Whitening Paste Keys
It is not abrasive.
It does not damage the gums.
An effective composition to whiten teeth safely and effectively.
A composition that also helps protect teeth against tartar or cavities.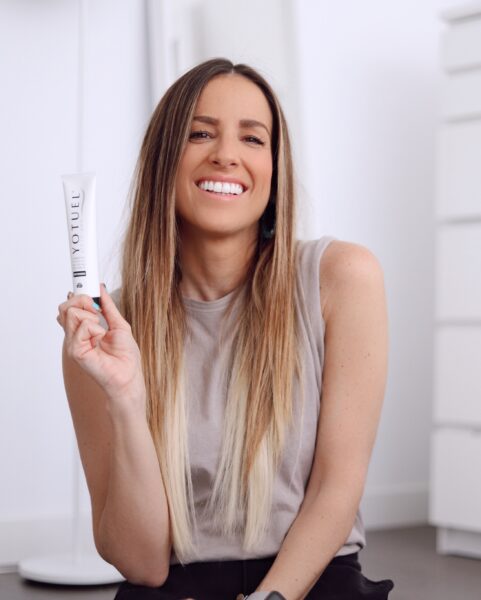 I use Yotuel All In One Snowmint toothpaste because it does not attack the enamel or the gums and it helps me keep my teeth white.
Why keep using Yotuel All in One Snowmint?
It is the first toothpaste with carbamide peroxide, a basic ingredient in teeth whitening treatments, adapted to the toothpaste formula for daily use.
Its effectiveness acts on both internal and external stains, ensuring a more aesthetic, healthy smile without the imperfections caused by coffee, tobacco or certain foods.
Fluoride, calcium and phosphates protect and strengthen tooth enamel, protecting it against daily aggressions and preventing tooth decay.
Xylitol is another component present in whitening toothpaste, a key ingredient for tooth remineralization and protecting teeth from the effect of sugars.
So now you know, strengthening your enamel and improving the white of your teeth can be a simple task and within your daily routine, thanks to Yotuel toothpastes.
You can find the range of Yotuel products at various points of sale specialized in hygiene and health, such as pharmacies and El Corte Inglés parapharmacies in Spain.